Ngāti Ranginui, as an essential service provider, will continue operations throughout all Alert Levels and emergency lockdowns. Communications and consults will be via phone or online. Our business continuity plans are at one month, three months and six months stages.
Our 0800 number is now active and
available to whānau / clients.
Are You Prepared? Your Whānau Plan
It's vital that whānau start to kōrero and plan now for how they will isolate at home. In your whānau plan you may need to consider – who will look after tamariki? Who will shop for kai, medication etc?
Our 'Isolating at Home' resource will help guide your kōrero and preparation as a whānau to create a whānau plan that can be share with one another and those who you may need to assist you during isolation.
The Self-Isolation Plan resource has checklists of what you'll need to plan for, supplies and medication you'll need during self-isolation, remedies for your symptoms, and emergency and support service contact details.
This Te Waharoa Whānau Pack Booklet can help you to safely navigate your whānau through this Omicron COVID-19 outbreak with tips on how to self-isolate, essential items to stock up on, creating your whānau plan, contact details for support and more.
Protect yourself, your whānau and your community. The COVID-19 vaccination is free for everyone in Aotearoa.
Getting Tested for COVID-19
If you have cold, flu or COVID-19 symptoms you should get a test. If you are unsure, talk to your local healthcare provider or call Healthline on 0800 358 5453. You can check the list of COVID-19 symptoms here.

Getting a COVID-19 test is free and available from local testing centres. There are 2 types of COVID-19 tests available to the general public in New Zealand.
Rapid antigen tests (RATs) are the main testing method being used now for people with COVID-19 symptoms or who are a Household Contact. Results take about 20 minutes.
Polymerase chain reaction (PCR) tests are still being used in some situations. ​Results take between 2 and 5 days. A health professional can advise you on the right test to take in your situation.
Whānau that have trouble accessing internet and digital options can also order RATS tests over the phone.
Simply call 0800 222 478, choose option 3 (8am-8pm, 7 days a week) 
You will be issued an order number. You can then collect your RAT order from a collection site listed on Healthpoint, or have someone collect it for you. 

​Your doctor/GP may also offer COVID-19 tests. Call them to find out and follow their advice.
Tū Ake Nei – COVID-19 Response E-Newsletter
Throughout Alert levels we will send out a regular E-newsletter to Ngāti Ranginui uri on our database. This will be filled with important information and updates relating to Ngāti Ranginui and COVID-19, and also let you know of upcoming activities or events that you may want to participate in.
These newsletters are sent to the email addresses of all our registered iwi members.
If you have not received one to your email address yet, please go to our registration page and register or update your details. You can also click on the link below to view an online version of each newsletter as it becomes available.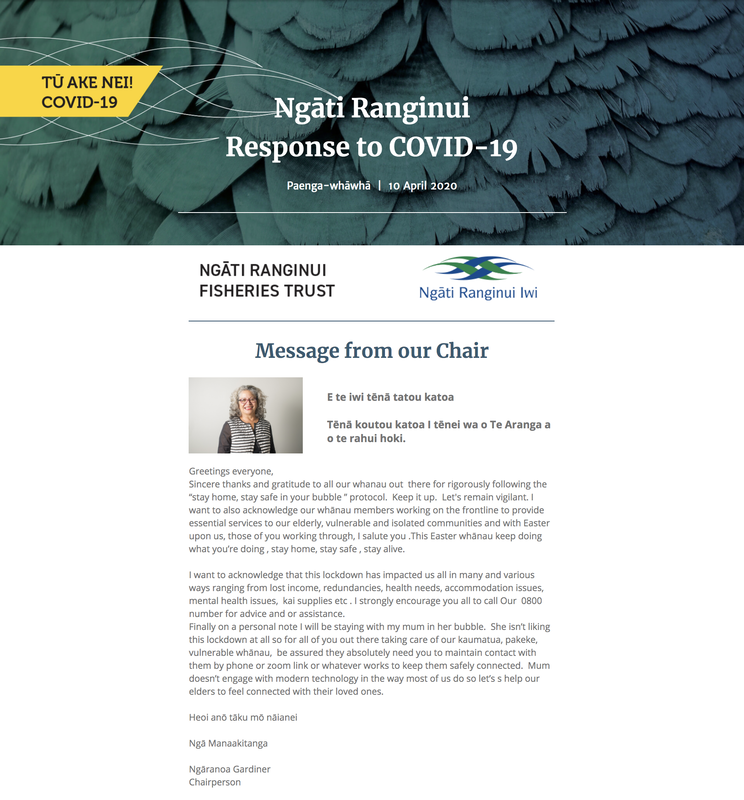 Description
Tenby Powell joined us to discuss the city council functions for Alert Level 4 and the plans for Tauranga moana post-lockdown.
Essential Numbers to Know
Healthline NZ – 0800 611 116
Ngāti Ranginui Iwi – 07 777 0410
Te Manu Toroa – 07 571 2017
Ngāti Kahu Hauora  – 07 576 0160
Te Puna Hauora – 07 571 8024
Tauranga Police – 07 577 4300
Greerton Police – 07 578 3460
In any emergency do not hesitate to call 111
​There has been so much happening, given the recent developments of the COVID-19 response. First and foremost, our focus has been on ensuring the safety of our people through resource and education.
Ngāti Ranginui have over 100 employees, 900 active clients and a beneficiary roll of over 8,000 enrolled, with a rohe population that must be considered in times of pandemic. Our response has been in action since COVID-19 Alert 1. Communications via email, phone, Website and social media have been daily.
Ngāti Ranginui has a responsibility to our whakapapa, tikanga and kawa to ensure our people and cultural knowledge are protected. We will do all we can to stop COVID-19 penetrating our Marae communities.
Ngāti Ranginui has contributed to, and been supported by, the BOPDHB, WBOPPHO, NZ Police and Local Government, with pandemic responses; ensuring to share information with Marae reps, in turn filtering onto Marae communities.
Ngāti Ranginui Iwi, Ngaiterangi and Ngāti Pukenga Chairs have discussed the pandemic and updated each respective Iwi on ways in which to share capacity and information during this time.